As mentioned last quarter, with the benefit of some time and thoughtful perspective, we are able to reflect on Hurricane Harvey and its impact on the Houston area. The storm certainly left its mark, although initial fears regarding the magnitude of damage were overstated, as is often the case in our hyper charged media environment. First the hard facts, then a few sentiments. Data about the impact on housing, commercial properties, vehicles, etc.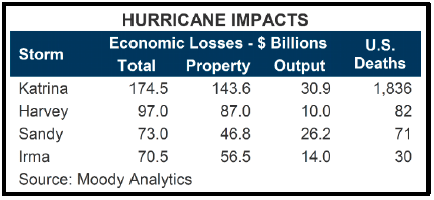 are estimates that evolve and become more accurate over time. For example, the nearby table ranking Harvey with prior major storms shows Moody Analytics' revised estimates made in October. Total damage was estimated to be $97 billion, putting Harvey second behind only Katrina. The initial estimates by Moody had total damage at $108 billion. The revised number includes $87 billion in property damage and $10 billion in lost economic output. The Greater Houston Partnership, the Houston region's chamber of commerce, has done a good job distilling the various data sources and zeroing in on the most accurate facts, which were published in late October and reproduced in summary form here:
FEMA reports that 538 business in the metro area suffered major damage.
586,862 individuals or households in metro Houston had registered for FEMA's Individual and
Households Program (IHP) and $584.7 million in assistance has been approved.
97,212 single-family homes in the Houston MSA were damaged or destroyed.
66,605 housing units were "affected," meaning the home sustained some damage, but is
habitable without repairs.
15,662 apartment units in 215 properties, about 2.4% of the inventory, were damaged due to high water.
The Houston region may lose approximately 300,000 vehicles with a total value of $2.4 billion.
Fifty-seven of the region's 1,200 office buildings sustained damage, representing 15.5 million square feet, or less than 7.0% of inventory. Most damage was isolated and ranged from roof leaks to flooded lobbies, basements and garages. Based on our internal list at Griffin Partners, approximately 24 office buildings remain under significant repair, and are either closed or have limited tenant access.
The death toll from Harvey was 82, more than Sandy and Irma, but considerably less than Katrina.
Our family at Griffin Partners was no exception to the disruptive effects of Harvey. We had five families impacted, including the family of one of our engineers, who, after securing his own home and family, returned to his job as the storm was building to ride it out at the property. Had he not been on site during the peak of the storm, a pump failure would have gone unaddressed and the resulting mechanical room flooding would have surely caused the building's entire electrical system to fail, adding this building we manage to the grim count of 24 above that still require significant repair. The proportion of our employees affected is consistent with the proportion of impacted employees reported by other Houston companies. As a company, our entire team came together to raise funds for our impacted colleagues. Many in our company contributed in other ways including volunteering at shelters and then later in the neighborhoods helping clear furniture, carpet, drywall and debris out of flooded homes.
It is difficult to use facts and figures like those above to illustrate the exceptional spirit exhibited by the greater Houston community in response to Harvey. We have been proud to observe how Houstonians almost universally give thanks for the blessings they have, don't complain and move on, even though in many cases their lives have been completely changed and their financial losses may be significant. It is that grateful, can do spirit that makes Houston such a great place live and work. It is that same spirit that is bringing Houston back from the declines in the energy industry.
Fund Updates
As we have been reporting for the past two quarters, Fund II has been in the process of harvesting several of its investments. The sale of Bank of America Plaza in San Antonio (BOAP) was completed in August and the proceeds of the sale were distributed to Fund II partners with last quarter's report. Two properties remain under contract. The contract for Plano Corporate Center is still contingent, and we should know within a few days if the contract will become firm. If the contract becomes firm, we expect it to close no later than mid-January.
Up to and including the enclosed distribution, Fund II has returned $19.4 million in distributions, equating to 85% of investors' contributed capital, taking into account all distributions. Net asset value at the end of Q3 was estimated to be $14.1 million, net of the enclosed distribution, which equates to a multiple of approximately 1.5 to date. After realizing anticipated value accretion in the remaining Fund II investments, we continue to estimate the multiple will exceed 1.7 when Fund II is concluded. Assuming Pin Oak closes on December 19th, we estimate cumulative distributions by year-end will equal approximately 115% of contributed capital. That means Fund II investors will have gotten all of their money back plus a 15% profit within two years of making the final capital contribution, AND still own interests in six assets.
Fund III continues to have a property under contract to acquire in Houston that we hope to close in Q1 of 2018. The seller is still trying to clear up a title issue that must be concluded before we can proceed with the transaction. We are very close to executing a contract to acquire a mixed-use property in Denver with both office and retail tenants. This would be what we call a "core-plus" investment given that the property is fairly well leased, but there is also a potential development component that could provide some significant future profit opportunities. Core-plus simply means the rent roll is a little more stabilized. We typically underwrite 15% compound returns on core-plus, slightly below our average target, but more stabilized rent rolls generally result in less risk.
Fund III had its fifth and final closing in October, raising an additional $5.9 million in commitments. The offering period has now ended, and the total capital committed to Fund III is $51.1 million. We are pleased with this outcome and grateful to our partners who have helped make Fund III over twice the size of Fund II.